Chemical Engineering Major
intro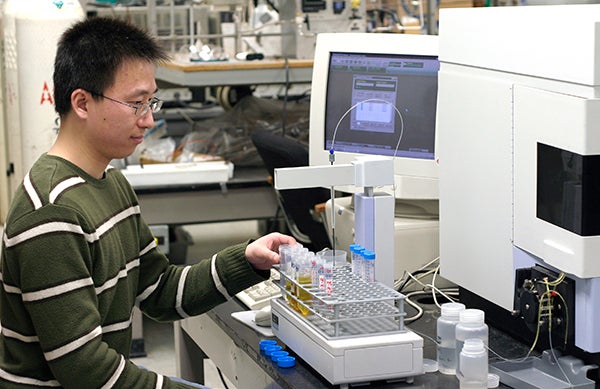 Chemical engineering answers the question of what chemistry can do to improve the world around us. Chemical engineers are problem-solvers who take raw materials and turn them into useful materials. Our undergraduate program includes a thorough immersion in the core concepts of chemistry—general, organic, physical, and analytical—followed by a series of upper-level chemical engineering courses that develop your ability to apply these concepts to develop new, innovative solutions to engineering problems.
The coursework in our program culminates in the Senior Design course, in which student teams, working with industry mentors, put their knowledge to work on a real-world issue that matters to them. Recent projects have focused on creating biofuels from wood chips, reducing greenhouse-gas emissions by using chemical solvents to capture carbon dioxide, and meeting an increasing global demand for the chemical propylene. Senior Design projects offer a true opportunity to pick a cause you are passionate about and spend two semesters working on it—and the experience often proves valuable when applying for full-time jobs.
UIC chemical engineering also is home to a concentration in biochemical engineering, which is of particular interest to students who love not only chemistry, but also biology. This concentration helps to position students for jobs or further study at the intersection of bioengineering and chemical engineering.
Chemical Engineering Major Requirements
Chemical engineering majors complete coursework in four categories:
Nonengineering and general education courses: Nonengineering and general education courses provide your foundation in chemistry and other core sciences, and include courses that will make you a well-informed and well-rounded college graduate. You will take 73 credit hours in this category, including eight courses in chemistry, two in physics, four in math, and a range of "chart-your-own-path" classes in areas such as Exploring World Cultures and Understanding the Creative Arts. For details on general education requirements, consult the course catalog.
Required engineering courses: Students earn 49 credit hours from engineering courses that all chemical engineering majors must take. These courses—including Transport Phenomena I, II, and III, Chemical Engineering Thermodynamics, and Material Energy Balances—offer a thorough introduction to the field. Details on these requirements are in the course catalog.
Technical electives: Chemical engineering majors choose one upper-level elective (3 credit hours) within the department. Options include Nanotechnology for Pharmaceutical Applications, Process Simulation with Aspen Plus, Computational Molecular Modeling, Renewable Energy Technologies, Biochemical Engineering, and more (see the course catalog for details).
Free elective: Chemical engineering majors also choose one elective (3 credit hours) from anywhere in the College of Engineering or UIC as a whole.
Biochemical Engineering Concentration
UIC offers a concentration in biochemical engineering for students who want to add an additional layer of specificity to their degree. This option is ideal for students who have an interest in biology or medicine, or for students who envision themselves working with applications of chemical engineering that can have a positive impact on medical treatment and the human body.
Students who choose this concentration complete CHE 422 Biochemical Engineering as their technical elective. In addition, their free elective plus one additional free elective must come from this list:
BIOS 350 General Microbiology
BIOS 351 Microbiology Laboratory
CHEM 352 Introductory Biochemistry
CHEM 452 Biochemistry I
Because students in the biochemical engineering concentration must choose two free electives, this may elevate the number of credit hours required for the degree to 130 rather than the standard 128 for the chemical engineering major.
ABET Accreditation
UIC's chemical engineering major is fully accredited by ABET, the Accreditation Board for Engineering and Technology. Visit our accreditation page to learn more about this certification and what it means for you.
Learn More About the Chemical Engineering Major