Admitted Graduate Students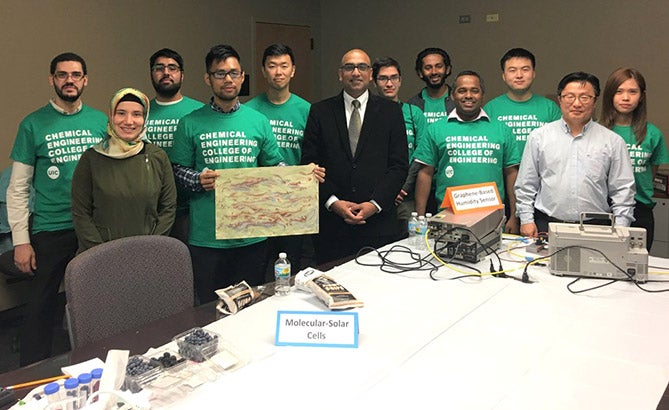 Congratulations on your admission to graduate study at the University of Illinois Chicago!
This page is designed to give incoming chemical engineering master's and PhD students easy access to the resources you need to get started at UIC.
We look forward to seeing you in class, and we are here to help as you begin your graduate program. If you cannot find the answer on this website to any question you may have, please contact us at uicche@uic.edu.
answer

Go the university student portal, my.uic.edu, to activate your account and receive your university NetID. You will need your Social Security number (SSN) or Temporary Control number (TCN), your university identification number (UIN), and your date of birth to complete the activation. Look for the activation link on the left side of the page. Once you have activated your portal account, you will be able to manage all aspects of your education at UIC through this site. The portal has information on UIC e-mail, registration, academic records, financial records, and more.

answer

If you are accepted to the program and plan to attend, you must submit your "intent to enroll" to hold your place in the class.

answer

All students should plan on attending the Graduate College orientation and the chemical engineering graduate student orientation in August. Dates for these orientations will be sent by email.

International students on a visa can enter the country 30 days prior to the start of the term. We strongly suggest you arrive early enough to allow plenty of time to find housing, register for classes, and get acclimated to the campus. International students are required to attend an additional Office of International Services (OIS) student orientation.

answer

Begin investigating the list of 400-level and 500-level chemical engineering courses that will make up the backbone of your academic program. Please keep an eye out for prerequisites and take those into account when making your selections.

All of our graduate courses are geared for students with an undergraduate degree in chemical engineering or an equivalent understanding.

Rules and minimum requirements for class levels will be discussed during the chemical engineering graduate student orientation.

answer

SEVIS hold – All new international students have a "SEVIS hold" automatically placed on their accounts.  You must check in with the Office of International Services (OIS) upon your arrival in Chicago.  OIS staff will provide details on how to remove the hold.
Immunization hold – If you are residing in on-campus housing, an immunization form must be filled out by your doctor and submitted prior to or upon your arrival at UIC. The immunization form is available online. Download this immunization form and submit it by the deadline indicated.

answer

UIC photo ID: Your university ID is called an iCard. You can get one after you have registered for classes. Full details and instructions are on the ID Center website.
U-Pass: This is a transit pass for Chicago public transportation—CTA buses and trains—that is issued to eligible students. The U-Pass is issued on a semester-to-semester basis, with validity from the beginning to the end of the semester. Visit the ID Center's U-Pass webpages for information on eligibility and distribution.

answer

Check out these helpful links before the start of your program.

University portal: my.uic.edu (in particular, ensure that you read all messages and attend to any requests)

answer

Social Security Number (SSN) – SSN card is issued to newly arriving international students only if they are employed.   See OISs SSN information page for further details.
Banking – You can open an account in any bank that you choose. However, it may be easiest to start an account with one of the UIC affiliated banks – PNC / Credit Union 1 until you have more time to learn about the other local banks. Visit OISs banking page for further details.
New chemical engineering graduate students may be required to attend one or more orientation sessions. These sessions include: