Career Success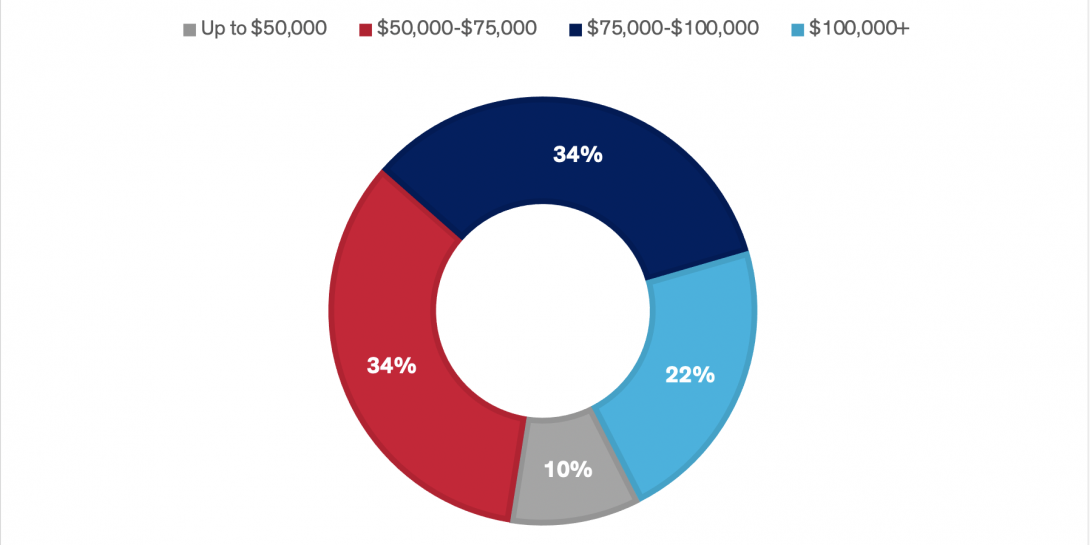 In 2021, we conducted a salary survey of UIC chemical engineering alumni. The chart above shows the distribution of responses from 161 participants. Chemical engineering is not only a rewarding field, but a well-compensated one, too!
Common jobs for new chemical engineering graduates Heading link
Controls engineer

Controls engineers optimize processes and implement quality-control systems. They often work at plants that process chemicals, metals, and other materials.

Environmental engineer

Environmental engineers help to prevent, control, or remediate environmental hazards, such as through waste treatment or pollution control technology.

Health and safety engineer

Environmental health and safety engineers work to prevent or correct hazardous working conditions, including factors such as air quality, noise level, and radiation.

Materials engineer

Because chemical engineers understand substances at the molecular level, they are well-positioned to apply their knowledge to the development and use of materials.

Operations manager

Operations managers can be responsible for the entire operation of a company or a specific activity, improving productivity and efficiency while finding ways to reduce costs.

Process engineer

Process engineers develop the sequences of events that turn raw materials into a diverse array of end products, from food and medicines to fuels and renewable energy.

Product engineer

Product engineers take the ideas for new products and determine the best way to manufacture them — especially at large scale.

Program manager

A program manager schedules, plans, and manages engineering work to ensure that projects are completed well and on deadline.

Validation engineer

Validation engineers manage, inspect, calibrate, and test the equipment and procedures used in manufacturing.
Where do UIC chemical engineering grads work? Heading link
Our graduates have done a phenomenal job at establishing their careers. The list below proves it. The places where our alumni work also demonstrate the broad spectrum of fields and companies where you can apply a UIC chemical engineering education.
column 1
Abbott Laboratories
Abbvie
Accenture
Allstate
Amazon
Anguil Environmental Systems
Aptagen
Assertio
Atredis Partners
Automated Logic
Axens North America
Baker Engineering and Risk Consultants
Baker Hughes
Baxter
Beyond Meat
BFG Environmental Technologies
Blommer Chocolate
BMO Financial Group
Boeing
BP
Brindley Engineering
Bunge
Cardinal Intellectual Property
Chicago Transit Authority
CHS Inc.
Citgo Petroleum
City of Chicago Water Management
Clarios
Clemson University
CMC Materials
Compliance Team, LLC
CSL Behring
DB Sterlin Inc.
Dow Chemical
DTE Energy
Dynamic Manufacturing
Ecolab
EN Engineering
Ergoseal
Evoqua Water Technologies
column 2
Exelon
Ferrara Candy Company
FHR
Flextronics
Flow Products
Forge Nano
Fresenius Kabi
Harbour Contractors
HDI Global Insurance
Healthy Directions
Honeywell
Hoosier Racing Tire
Hyundai
Illinois Institute of Technology
INEOS
Ingredion
Intel Corporation
Jensen Hughes
John Crane Inc.
Johns Manville
Kazmira
Kerry Ingredients
Keyence
Koppers Inc.
L'Oréal
Lear Corporation
Linde
Lockheed Martin
McDermott – CB&I Storage Solutions
Medline Industries
Melinta Therapeutics
Menasha Packaging
Merck
MonoSol
Mostardi Platt
National Institutes of Health
Northrop Grumman
Nouryon
Novaspect
Nylok
column 3
Orbit Consulting
Pentair Filtration Solutions
Peoples Gas
Pfizer/Aerotek
Plitek
PLZ Aeroscience
ProAmpac
Procter & Gamble
ProLeiT
Purdue University
R&D Molders
Robert Bosch
Rockwell Automation
Rush University Medical Center
S&C Electric Company
SABERT Corporation
Sargent and Lundy
Smith & Burgess Process Safety Consulting
Spraying Systems Co.
Stepan Company
Superior Graphite
Takeda Pharmaceuticals
Tekni-Plex
Thermo Fisher Scientific
TM Process & Controls
Tridium
U.S. Army
U.S. Department of Defense
U.S. Navy
U.S. Nuclear Regulatory Commission
U.S. Patent Office
Unilever
Vantage Specialty Chemicals
VEQTOR Technical and Validation Services
Walker Process Equipment
Xylem
Xttrium laboratories
Zachry Engineering Corporation