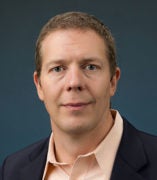 Brian P. Chaplin, PhD
Professor
Department of Chemical Engineering
Contact
Address:
929 W. Taylor St, MC 110, Chicago, IL 60607
Office Phone:
Email:
Related Sites:
About
Fall 2020 Courses:
CHE 312 Transport Phenomena I
Research Interests
Environmental Chemistry
Water Treatment
Selected Publications
2015
Santos, M.C., Jing, Y., Fang, L., Chaplin, B.P., Elabd, Y.A. "Highly Porous Ti4O7 Reactive Electrochemical Water Filtration Membranes Fabricated via Electrospinning/Electrospraying." AIChE Journal, In Press.

Jawando, W., Gayen, P., and Chaplin, B.P.. "The effects of surface oxidation and fluorination of boron-doped diamond anodes on perchlorate formation and organic compound oxidation." Electrochimica Acta 174 (2015): 1067-1078.
Notable Honors
2015, CAREER Award, National Science Foundation
Education
Ph.D. in Environmental Engineering, University of Illinois at Urbana-Champaign (2007)
Master of Science in Civil Engineering, Concentration: Environmental Engineering, University of Minnesota (2003)
Bachelor of Geological Engineering, Concentration: Environmental, Minor: Geology, University of Minnesota (1999)