PhD candidate gaining industry experience via NSF INTERN grant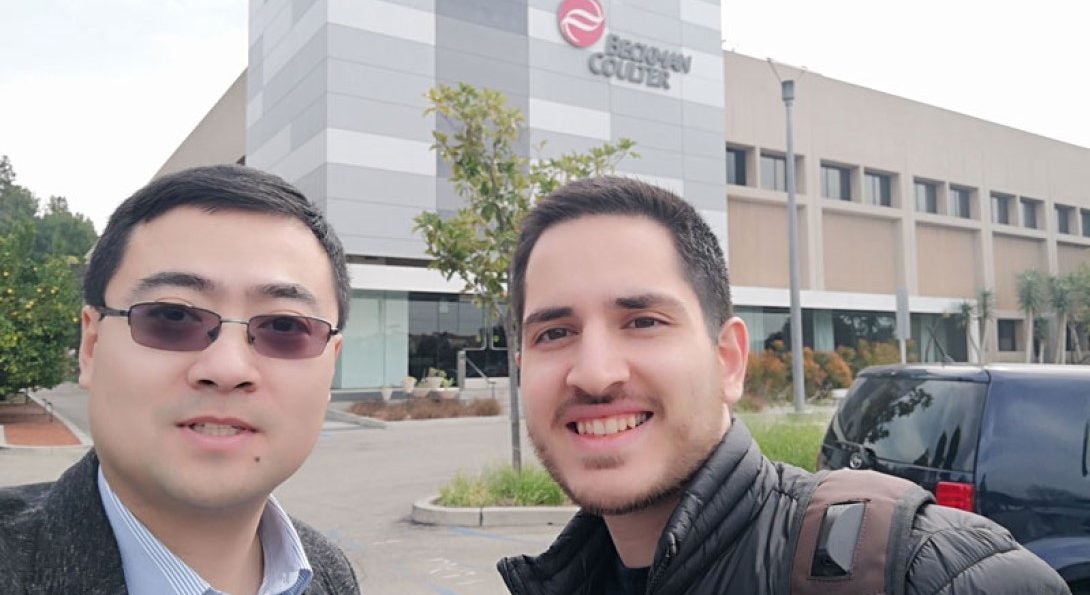 By David Staudacher, UIC
PhD candidate Alireza Ahmadian Yazdi has taken his studies outside the laboratory and into the working world. The College of Engineering student jumped at the opportunity to take on a five-month internship at California-based Beckman Coulter, a leading company in biomedical instruments.
Ahmadian Yazdi, who is working on his PhD under the direction of Mechanical and Industrial Engineering Assistant Professor Jie Xu in the Microfluidics Laboratory and being co-advised by Associate Professor Vikas Berry in the Department of Chemical Engineering at UIC, was awarded a $55,000 grant from the National Science Foundation (NSF) INTERN program to pursue the unique opportunity that started in January and runs through May.
This grant was a supplement to the NSF Industry-University Cooperative Research Center award for the Center for Advanced Design and Manufacturing of Integrated Microfluidics (CADMIM), which is co-directed by Professor Abe Lee at the University of California at Irvine and Professor Ian Papautsky at UIC (http://www.inrf.uci.edu/cadmim/).
Ahmadian Yazdi is working with Berry in the Chemical Department to develop a biosensor system using graphene in a microfluidic device. Berry's laboratory is researching graphene science and technology for biomedical devices, semiconductor electronics, optoelectronics, 3D printing and molecular nanotechnologies.
Berry said Ahmadian Yazdi is a great example of how UIC's engineering school provides its students with the knowledge and skills they need to succeed in their chosen career fields.
"Ali is a great example of a student well equipped with fundamental knowledge, having research skills with technological expertise, and an industrial perspective towards engineering products," Berry said. "He has been working on next-generation biosensors using graphene. He is en route towards a great engineering career."
The INTERN program grant is geared toward fostering the growth of a globally competitive and diverse research workforce and advancing the scientific and innovation skills of the nation. It provides funding for non-academic research internships for graduate students to support career opportunities in any sector of the U.S. economy, and ensures graduate students are well prepared for the 21st-century workforce.
"My experience with the Global Innovation Team at Beckman Coulter is teaching me a new thought-process," Ahmadian Yazdi said. "Solutions to pressing issues in healthcare are mostly market-driven as opposed to driven by new technologies. In fact, existing technologies might be further ahead of the market needs. Hopefully, this new mindset helps me with the rest of my PhD thesis, as well as future career."
The ultimate goal of Ahmadian Yazdi's PhD thesis is to overcome existing challenges in healthcare. To achieve this, his method is mainly proposing technological solutions. However, knowing what these challenges are and whether the solutions are proper answers to them can be very difficult with a lack of industry experience. The internship is helping him to understand different perspectives.
While he is gaining new perspectives at the internship, Ahmadian Yazdi credits UIC as well as CADMIM with preparing him for the position and the working world when he graduates.
"UIC gave me the opportunity to study for a PhD and take part in top-notch research projects," he said. "I definitely recommend UIC's PhD program for those looking for a PhD position. I work at two labs, Microfluidics Lab in the Mechanical and Industrial Engineering Department and Dr. Vikas Berry's Research Lab in Chemical Engineering Department. Both departments are highly research-oriented and there is a growing interest in high impact and ground-breaking research projects. I am confident that this atmosphere would benefit current and future PhD students."
The Chemical Engineering department participates in high-impact research activities and innovative studies. The department focuses on advanced materials, biotechnology, biotransport, complex fluids, computational fluid dynamics, computational research, drug delivery, electrochemistry, fizzics, graphene and 2D nanomaterials, microelectronic materials and processing, nano-manufacturing, nanotechnology, optics and optoelectronics, pharmaceuticals, polymers, reaction kinetics and process analysis, renewable energy, separation technology and membranes, soft matter, surface science, and water treatment.
Prospective students can learn more information on the department's website at: https://che.uic.edu/prospective-students/
Modified on May 06, 2019