Design team turns up the heat on plastic waste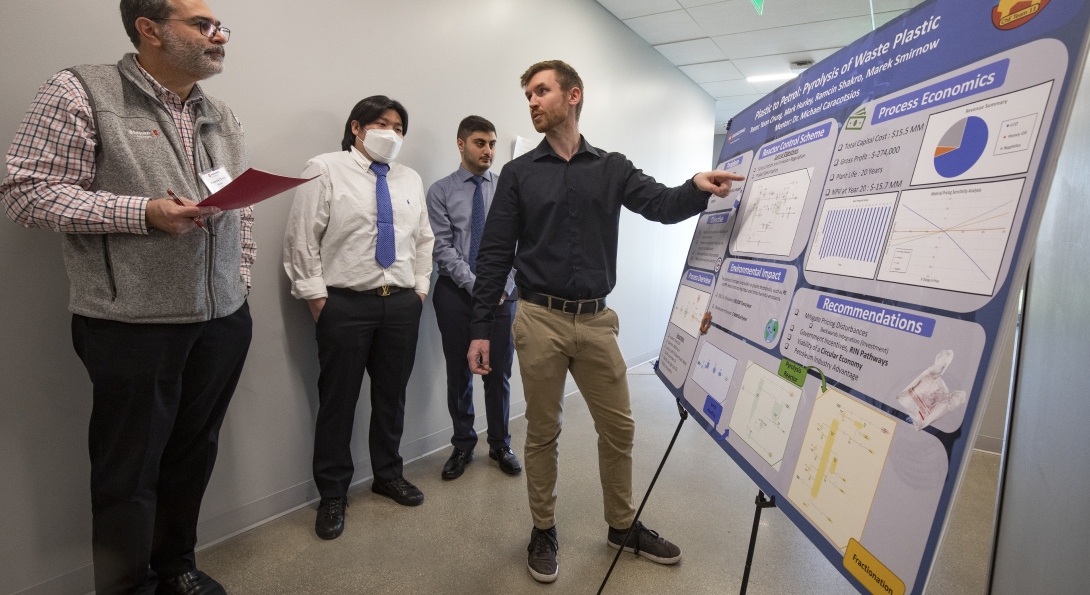 A recent study published in Science Advances found that U.S citizens generate an average of 231 pounds of plastic per year, which then finds its way into landfills and water across the world.
A group of seniors in the Department of Chemical Engineering tackled this plastic problem head on with a hot idea: developing a process to heat the plastic up to such a temperature that it breaks down into hydrocarbons that can then be converted into fuel.
Team members, including Yoon Chung, Mark Hurley, Ramcin Shakro, and Marek Smirnow, said that since the world will likely not slow down plastic production anytime soon, they wanted their senior design project to focus on new ways to deal with this plastic waste.
"Because there are not many regular technologies and businesses dealing with plastic waste, we also figured the process we would be using to deal with the plastic would be relatively new, which gave us the opportunity to research a process that has not been performed yet," Hurley said.
They developed a recycling system that uses pyrolysis, which heats contents to a high temperature in an environment that does not contain oxygen. The recycling system breaks down the plastics into smaller hydrocarbon chains, producing hydrocarbons ranging from C2 to C20, indicating a molecule with two carbons up to a molecule carbon chain of 20.
These hydrocarbons are then sent to a separation unit based on when their boiling point occurs. The team added multiple streams of products that can then be further processed to form gasoline, diesel, and heating oil.
The heating process works on polypropylene and polyethylene plastic, which are the most common forms of plastic produced around the world. The team noted further work needs to be done to be able to use the system on plastics that are contaminated or treated in some way.
The team faced challenges in developing a recycling system that was economically feasible and said additional calculations would need to be made to figure out the cost of removing and transporting plastic from the oceans or landfills to a physical plant.
"We hope to minimize the influence of plastic waste and its contribution to air, water, and land pollution and lower the demand for fossil fuels made from crude oil at the same time," Hurley said.