Chemical engineering seniors scale-up plastic recycling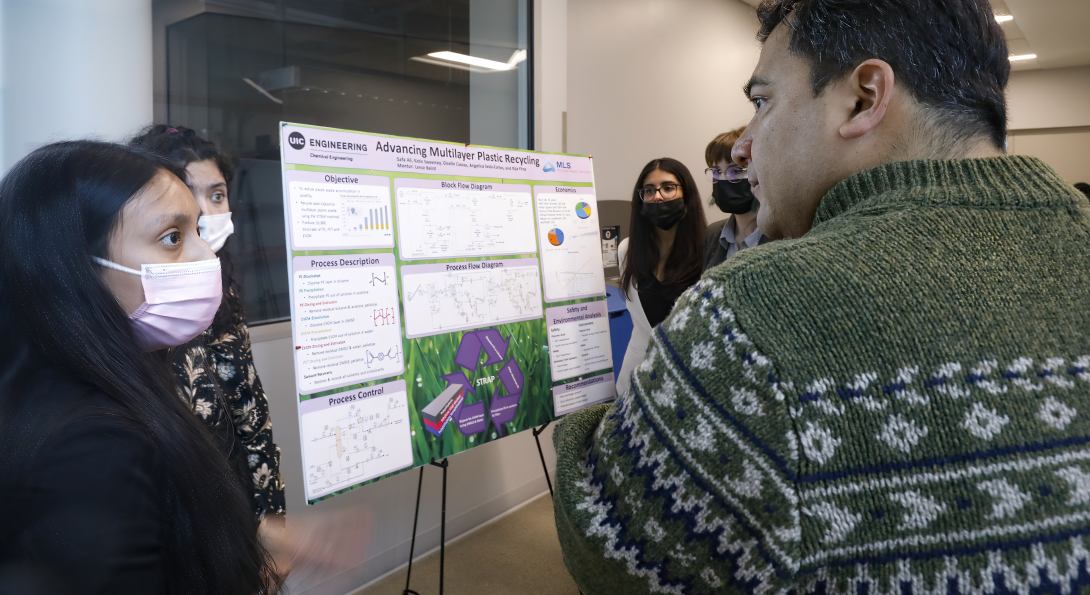 Techniques to recycle plastic waste are often expensive and inefficient on a scale where they can make a dent in the massive problem of plastic in the oceans and landfills.
For their senior design project this year, a group of senior chemical engineering students — including Safa Ali, Kathleen Patricia Sweeney, Rija Firoz, Giselle Aileen Cuevas, and Angelica Seda Cortes — took on the monumental task of trying to scale up and optimize a lab-scale plastic recycling process
Clinical Associate Professor Betul Bilgin, the design class professor, had the perfect resource to help the group get started: UIC alumnus Theodore Walker. Walker, who works for Exxon Mobil, had helped develop a process for multilayer plastic recycling called STRAP.
The STRAP method was developed at the University of Wisconsin by Professor George Huber and his team, in collaboration with Walker. It uses solvents to separate plastic, one layer at a time, into individual polymer layers that can be reused.
The STRAP process also effectively recycles the solvents and anti-solvents used to separate the layers, making the system even more sustainable.
The team decided to focus specifically on post-industrial food packaging waste that is primarily composed of PET, EVOH, and PE types of plastic. Cuevas noted that while the STRAP process does not help with plastic waste already polluting water supplies and landfills, it will prevent additional plastic from polluting the environment.
The team noted that this technique is so new they had trouble finding research papers and additional information for this specific process because it has not been scaled up and commercialized anywhere in the world. To solve this problem, they reached out to Walker and discovered the process was also not completely simulated at UW, but he suggested they complete hand calculations for any additional information that was required.
The students rolled up their sleeves and completed these additional simulations on the mass balance of the process and equipment sizing. These calculations were done with the guidance of their advisor Lance Baird and several resources such as textbooks.