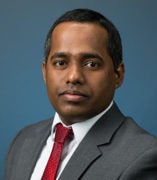 Sanjay K. Behura
Research Assistant Professor
Department of Chemical Engineering
Contact
Address:
945 W. Taylor St, MC 110, Chicago, IL 60607
Office Phone:
Email:
Related Sites:
About
Research Interests
Molecular and Perovskite Optoelectronics
Mixed-Dimensional Heterojunction Photovoltaics
Low-Dimensional Quantum Materials and Heterostructures
Selected Publications
S. K. Behura*, C. Wang, Y. Wen, and V. Berry*, "Graphene/Semiconductor Heterojunction Sheds Light on Emerging Photovoltaics," Nature Photonics, 13, 312–318 (2019).
S. K. Behura, P. Nguyen, R. Debbarma, S. Che, M. R. Seacrist, and V. Berry, "Chemical Interaction-Guided, Metal-Free Growth of Large-Area Hexagonal Boron Nitride on Silicon-Based Substrates" ACS Nano, 11, 4985-4994 (2017).​
S. K. Behura, P. Nguyen, S. Che, R. Debbarma, and V. Berry, "Large-Area, Transfer-Free, Oxide-Assisted Synthesis of Hexagonal Boron Nitride Films and Their Heterostructures with MoS

2

 and WS

2

," Journal of the American Chemical Society, 137, 13060-13065 (2015).
S. K. Behura and V. Berry, "Interfacial Nondegenerate Doping of MoS

2

 and other Two-Dimensional Semiconductors," ACS Nano, 9, 2227-2230 (2015).
S. K. Behura*, S. Nayak, I. Mukhopadhyay, and O. Jani, "Junction Characteristics of Chemically-Derived Graphene/p-Si Heterojunction Solar Cell," Carbon, 67, 766-774 (2014).
Education
Post-Doctoral Research Associate (2016) - University of Illinois at Chicago, USA
Ph.D. (2014) - PDPU India with Graduate Research Program at University of Saskatchewan, Canada
M.Sc. in Physics (2008) - National Institute of Technology, Rourkela, India
B.Sc. in Physics with Honors and Distinction (2006) - Utkal University, India