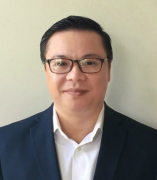 Anh Ngo, PhD
Associate Professor
Department of Chemical Engineering
Contact
Address:
929 W. Taylor St, MC 110, Chicago, IL 60607
Office Phone:
Email:
About
Research Interests
Multiscale Materials Modeling
Computational Materials Science for Materials Design
Renewable Energy and Nanotechnology
Advanced Battery Materials
Strongly Correlated Quantum Materials
Selected Publications
Yue Gao, Tomas Rojas, Ke Wang, Shuai Liu, Daiwei Wang, Tianhang Chen, Haiying Wang, Anh T. Ngo, Donghai Wang. " Low-temperature and high-rate-charging lithium metal batteries enabled by an electrochemically active monolayer-regulated interface". Nature Energy 5, 534–542 (2020).
Pallab Barai, Anh Ngo, Badri Narayanan, Kenneth Higa, Larry A Curtiss, Venkat Srinivasan." The role of local inhomogeneities on dendrite growth in LLZO-based solid electrolytes" Journal of The Electrochemical Society, 167 100537 (2020).
Hyowon Park, Ravindra Nanguneri, and Anh T. Ngo."DFT DMFT study of spin-charge-lattice coupling in covalent LaCoO3" Phys. Rev. B 101, 195125 (2020).
Zhe Zhang, Yiming Li, Bo Song, Yuan Zhang, Xin Jiang, Ming Wang, Ryan Tumbleson, Changlin Liu, Pingshan Wang, Xin-Qi Hao, Tomas Rojas, Anh T. Ngo, Jonathan L Sessler, George R Newkome, Saw Wai Hla, Xiaopeng Li . " Intra-and intermolecular self-assembly of a 20-nm-wide supramolecular hexagonal grid" Nature Chemistry 12, 468–474 (2020).
Yuan Zhang, Jan Patrick Calupitan, Tomas Rojas, Ryan Tumbleson, Guillaume Erbland, Claire Kammerer, Tolulope Michael Ajayi, Shaoze Wang, Larry A Curtiss, Anh T. Ngo, Sergio E Ulloa, Gwénaël Rapenne, Saw Wai Hla. " A chiral molecular propeller designed for unidirectional rotations on a surface" Nature Communications10, 3742 (2019).
Yipeng Cao, Milind J Gadre, Anh T. Ngo, Stuart B Adler, Dane D Morgan. "Factors controlling surface oxygen exchange in oxides" Nature Communications 10, 1346 (2019).
M. Asadi, B. Sayahpour, P. Abbasi, Anh T. Ngo, Klas Karis, Jacob R Jokisaari, C. Liu, B. Narayanan, Marc Gerard, Poya Yasaei, X. Hu, A. Mukherjee, Kah Chun Lau, R. S Assary, Fatemeh Khalili-Araghi, Robert F Klie, Larry A Curtiss and Amin Salehi-Khojin. "A lithium–oxygen battery with a long cycle life in an air-like atmosphere". Nature 555, 502–506 (2018).
Yang Li, Anh T. Ngo, Andrew DiLullo, Kyaw Zin Latt, Heath Kersell, Brandon Fisher, Peter Zapol, Sergio E Ulloa, Saw-Wai Hla. " Anomalous Kondo resonance mediated by semiconducting graphene nanoribbons in a molecular heterostructure " Nature Communications 8, 946 (2017).
Anh T. Ngo, Eugene H. Kim, and Sergio E. Ulloa "Single-atom gating and magnetic interactions in quantum corrals" Phys. Rev. B 95, 161407(R) (2017).
Philippe Debray, SMS Rahman, J Wan, RS Newrock, M Cahay, Anh T. Ngo, SE Ulloa, ST Herbert, Mustafa Muhammad, M Johnson  " All-electric quantum point contact spin-polarizer" Nature Nanotechnology 4, 759–764 (2009).