Chemical engineering student wins award for nanoculture research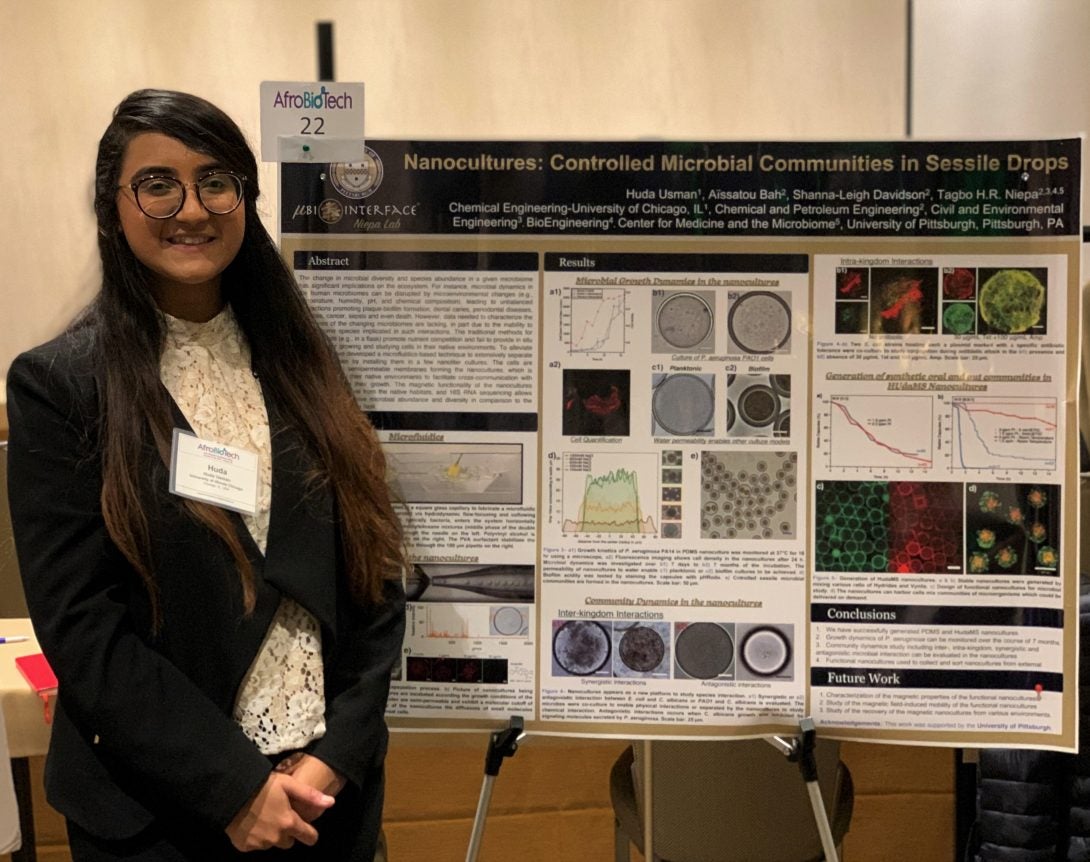 While our instinct might be to kill and get rid of bacteria as quickly as possible, a UIC chemical engineering senior recently won an award for her efforts to keep bacteria alive and thriving.
Huda Usman received the first-place Undergraduate Poster Award at the 2019 AfroBioTech Conference in Atlanta for her research poster on nanocultures.
"I was so motivated after finding out I had won," she said. "It was motivating even being at this conference, which was all minority researchers and professors. Being able to meet people in my field and to tell them about my research was really great."
Usman explained that currently only 5 percent of bacteria are culturable and only under certain conditions in labs, meaning that most types of bacteria die so quickly that they cannot be studied.
She has been investigating this research problem for the last two summers while working in the University of Pittsburgh's chemical and petroleum engineering department with Assistant Professor Tagbo Niepa.
The first summer, she focused on functionalizing polymer membranes. She moved into creating nanocultures this past summer.
"The systems we are making are like little bubbles," Usman said. "The bacteria are encapsulated in it so we can improve how they grow, and then we can study them better."
This work could potentially allow researchers to create penicillin-type molecules or other medicinal molecules, she added. They also could use the nanocapsules to study how bacteria affect the human body. The research for which Usman won her award was focused on dental bacteria naturally found in humans' mouths.
Usman, who is president of UIC's student chapter of the American Institute of Chemical Engineers (AIChE), plans to pursue her PhD with this research underpinning a possible topic for her dissertation.
"The final goal would be to make a microbial bank," Usman said. "For example, if you have healthy teeth, you can harvest your microbes and save them somewhere. After you have a problem with your teeth and you need the good bacteria back, you can get them from the bank. That's an idea we want to pursue."
Usman gave an oral presentation at the AIChE meeting in Orlando this fall and was accepted to present this research at the Emerging Researchers National Conference in STEM in Washington, D.C., next year.
Modified on November 22, 2019