Chemical engineering seniors impress at Expo 2019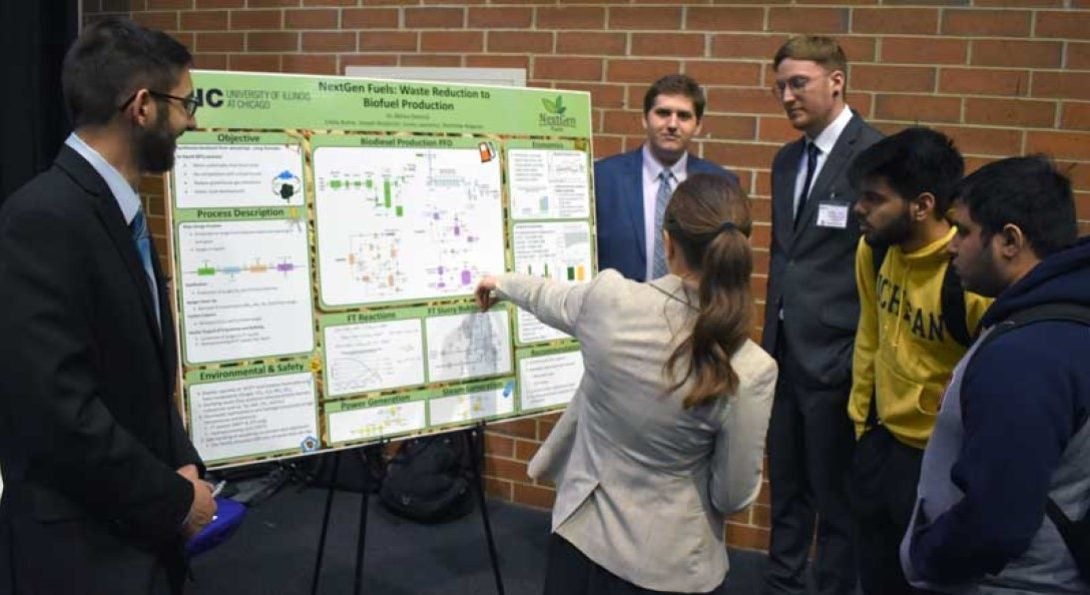 Chemical engineering seniors impress at Expo 2019 Heading link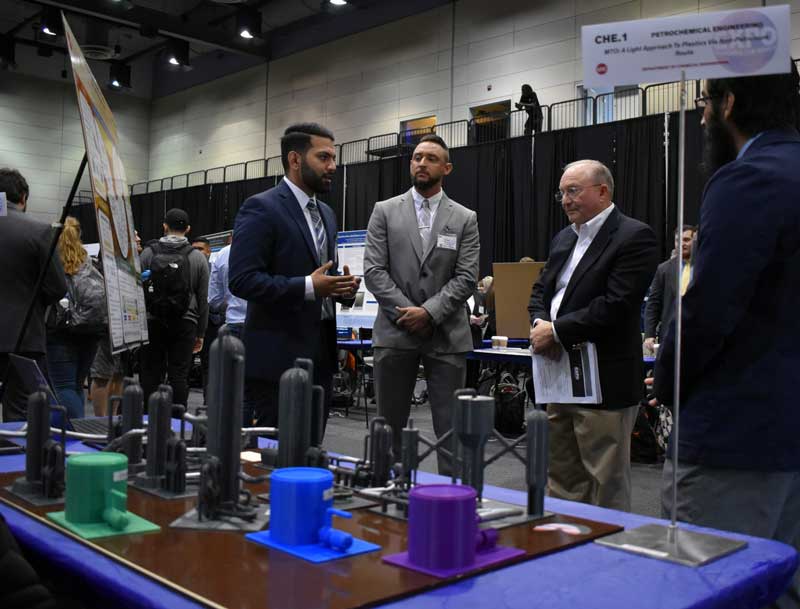 Dozens of senior UIC chemical engineering students capped off months of hard work, along with years of studying in the department, by showcasing their projects at the 30th annual UIC Engineering Design Expo.
The Expo, held this year on April 26, featured 14 teams of chemical engineering students who impressed attendees and judges with an extensive variety of projects and prototypes, including several clean energy and fuel production projects, an improved power plant model, a method to enhance the production of cancer fighting chimeric antigen receptor T-Cell therapies, and a new antifouling polymer that can be used for medical applications.
The chemical students joined with more than 700 college of engineering undergraduates to pack the Isadore and Sadie Dorin Forum in Chicago. The exhibition hall was full of young men and women who were eager to show off their work to the judges and other expo attendees. Each student at the expo completed the two-semester Senior Design Course that challenged them to solve a real-world design problem.
Award winners
Five of the department's teams were honored with awards from the judges, who represented many different areas of Chicago's professional community.
The team of Kenil Gandhi, Sara Harris, Angelina Rackovic, and David Schulz were given the poster and prototype award for the chemical engineering department for their project "Carbon Dioxide to Methanol: A Solution to Pollution." They also won the Green Carbon Dioxide Award for their cement plant design, which utilizes flue gas as a feedstock to lower overall CO2 emissions by converting the emissions into the industrial chemical methanol. The students noted CO2 is the most common abundant greenhouse gas with an estimated total of 49.3 gigatonnes emitted across the world in 2016. "With an aspiration to reduce environmental damage, it is our goal to make this process widespread, and commercially attractive," the team said in its abstract.
Emily Buhle, Joseph Kostenski, Corey Lawrence, and Matthew Wagener, won the Biofuel Engineering Award for their "NextGen Fuels: Waste Reduction to Biofuel Production" project. The team designed a biofuel plant that uses woodchips and sawdust put through a process called gasification, which turns organic or fossil fuel-based materials into carbon monoxide, hydrogen, and carbon dioxide. Those materials can then be used to create a biodiesel fuel blend.
The Bioprocess Engineering Award was taken home by Jenine Agoncillo, Sanjana Epari, Grzegorz Kokoszka, and Michael Shakro for their plan to build a polylactic acid production plant that produces PLA by means of fermentation. The team's abstract, "Work Hard, PLA Hard: Biodegradable Plastics from Renewable Resources"noted humans use about 500 billion plastic bags per year, most of which end up in landfills or are incinerated. But by using PLA, a polymer that is biodegradable by hydrolysis, the team said it can diversify the plastics industry by providing a clean and biodegradable plastic alternative.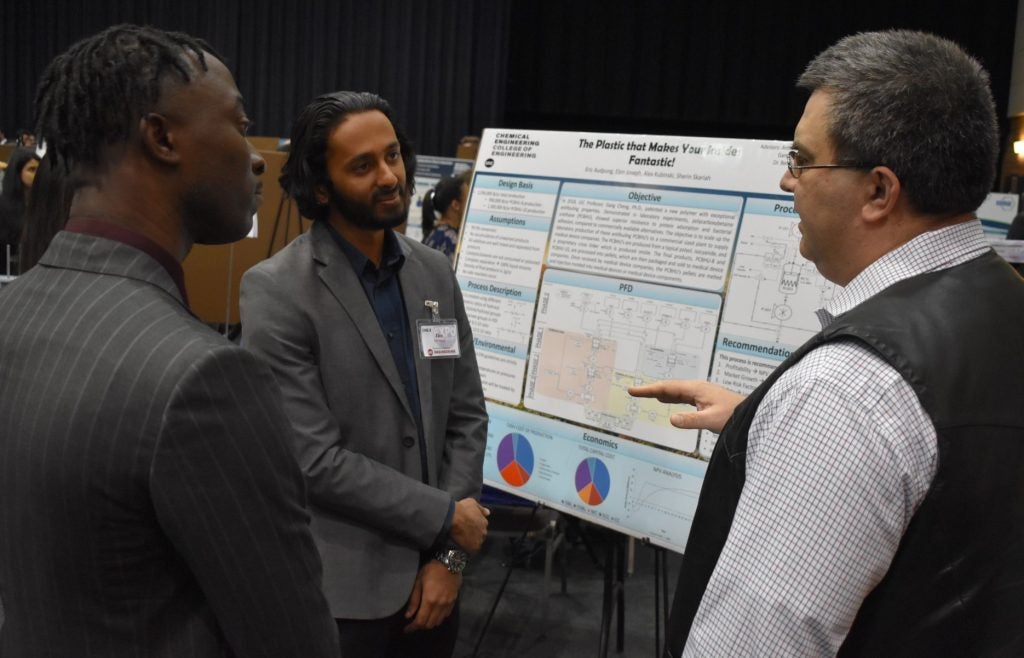 The Petrochemical Engineering Award went to Matthew McKinney, Katherine Milla, Matt Ryan, Michael Topalis, and David Wesolowski for their project titled "Hydrogen Fuel: The Way of the Future." The students worked to design a hydrogen fuel required to source a novel fuel station in Germany for trains and hydrogen fuel cell cars. The students also looked at creating a carbon capture unit that would be able to catch more than 70 percent of all carbon dioxide generated by the process to create hydrogen fuel cells. "This plant will be an essential contributor to begin the transition to more efficient fuel sources in the European Region and will pave the way of the future," the team said in their abstract.
By David Brazy, UIC
Modified on June 18, 2019